Wall Mount Bike Brackets Fairfield.  Manufactures and distributors of space  saving Bike Brackets. Space bikes 12″ apart, Locking, Complimentary Layouts, Free delivery. Revenue generator.
#42488 Wall Mount Bike Brackets are manufactured with cushion coated powder coat steel. With a medium gloss, shiny black powder coat finish. Designed to allow bikes to be spaced just 12″ apart when space is tight. We alternate the heights of the #42488 brackets 64″ and 74″ so the handlebars do not touch other bikes.
Our Bike Techs in our Jersey Office provide Complimentary Bike Room Layouts. Code compliant, Space Saving and bike owner friendly.  Feel free to email us for immediate assistance or click the link above to use our Complimentary Bike Room Layout form.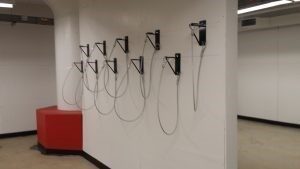 If the bike room walls are sheet rock, We suggest adding plywood supports over the bike walls,m 22″ high x 2″ thick for secure anchoring. Prior to installing the bike brackets, Consider painting the walls in a matte or semi gloss finish for easy removal of dirt marks with a wet cloth.  Initially if their is plenty of space in the bike room center the bike brackets on 24″ centers all 74″ from the cushioned bike hook to the floor. The when additional bike brackets are needed install them in between the existing brackets at 64″ from the cushioned bike hook to the floor. The overall height of the room should be 96″ high. Let us know if its not, We will design the bike room accordingly.
Wall Mount Bike Brackets Fairfield generate good revenue. Today most developers, landlords, condo boards, apartment complexes and parking garages charge a monthly fee to use the bike room. Ranging from $10.00 to $25.00 per month. A bike room with 60 assigned spaces renting out for $15.00 per month will generate $10,980.00 per year in revenue. The return on investment (ROI) averages 6 to7 months on average.
Our New Jersey Facility also stocks Tenant Storage Cages. Our trucks deliver and install in the Tri-State area daioy.
Our office is open Monday through Friday 6AM – 5PM and Saturdays 7AM to 4PM. Contact us today for immediate assistance. Sales@BikeRoomSolutions.com or P(917) 701-5795.
Wall Mount Bike Brackets Fairfield, Wall Mount Bike Racks Fairfield NJ, Wall Mount Bike bracket manufacturers NJ, Bike Racks NJ, Fairfield NJ 07004, Wall Mount Bike Brackets delivered daily to Fairfield, Parsippany Troy Hills, West Caldwell, Clifton, Passaic, West Orange, New Jersey