Wall Mounted Bike Racks Atlanta. Easy to use, Space Efficient Bike Storage, Locking, Complimentary Layouts, Generates Revenue, Free delivery. #42488 Wall Mount Bike Racks have been designed for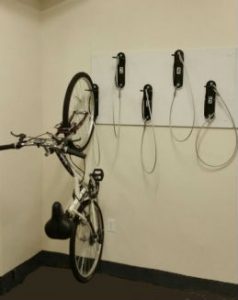 today's bike rooms. Each bike can now be spaced 12″ apart when space is tight. Our Bike Techs alternate the heights of the bike brackets 64″ and 74″ so the handlebars don't touch other bikes.
Built to last #42488 Bike Brackets manufactured with cushion coated steel with a shiny black, medium gloss, powder coat finish. Rated for indoor or outdoor use.  Bike Room Solutions provides Complimentary Bike Room Layouts along with bike room set up tips. To help create a Self Managed, Maintenance Free Bike Room.
Feel Free to use the form in the above link for a code compliant, complimentary bike room layout or email us for immediate assistance. Sales@BikeRoomSolutions.com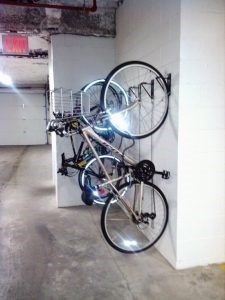 Wall Mounted Bike Racks Atlanta generate good revenue.  Most developers, landlords, condo boards, apartment complexes and parking garages charge a monthly rental fee to store bikes ranging from $15.00 to $20.00 per month. Bike Rooms with 65 bike spaces being rented out at $15.00 per month will generate $11,700.00 per year in revenue. The bike room will pay for itself in 7-8 months on average, (ROI).   Contact is today for immediate assistance. Our facilities are open Monday through Friday 7AM to 5PM, Saturdays 7AM to 4PM.
Bike Room Solutions also stocks Tenant Storage Cages locally in Single Tier- Full height doors and Double Tier – Stacked doors. Manufactured with 4ga welded wire in a durable, rust resistant galvanized and Powder coat gray or medium gloss black.
Each of our Tenant Storage Cages has a full height anti-theft lock bar and welded hasp for padlocks. FYI 4ga welded wire is more than double the thickness of 10ga welded wire. providing increased security for less, Thanks to robotics.  If your building needs tenant storage lockers please let us know. Sales@BikeRoomSolutions.com
Wall Mounted Bike Racks Atlanta, Wall Mount Bike Brackets Atlanta, Bike Hangers Atlanta, Wall Mount Bike Racks Atlanta, Tenant Storage Cages Atlanta, Wall Mount Vertical Bike Racks Atlanta Georgia, Wall  Mount Bike Racks Georgia.