Wall Mount Bike Racks Kearny. Space saving, Easy to use, Locking, Complimentary Bike Room Layouts, Generates Revenue, Free delivery. Designed to save space and be Easy to use. #42488 Wall Mount Bike Brackets designed to allow bikes to be stored 12″ apart when space is tight. Manufactured with cushion coated, powder coat steel with a medium black gloss finish. Our local New Jersey facility provides Complimentary Bike Room Layouts.
Along with the complimentary bike room layouts comes numerous bike room set up tips to help create a self managed, Maintenance free bike room. ie: If the bike walls are sheet rock, We recommend adding plywood supports over the bike walls 22″ high x 2″ thick for added anchoring support. The plywood supports need to be screwed into the walls studs, Additionally our bike room techs also use toggle bolts. Our bike techs can set up your bike room or we can show your staff how to install #42488 at no charge. All hardware included.
Wall Mount Bike Racks Kearny generate good revenue.
In New Jersey most developers, landlords, condo boards, apartment complexes and parking garages charge a monthly or daily rental rate for bike storage. Residential Bike Rooms in 2019 charge $15.00 to $20.00 per month. Bike Rooms with 50 bike spaces renting out for $15.00 per month will generate $9,000.00 per year in revenue. The ROI (Return on Investment) averages 7 months.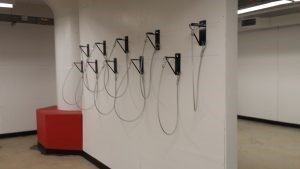 Our sister company stocks Tenant Storage Cages in New Jersey
Our team provides complimentary tenant storage cage layouts six days a week. Stocked locally in rust resistant galvanized steel and two powder coat colors. Medium Gloss Black, Gray. Tenant Storage Lockers are stocked in New Jersey in single tier – full height doors and double tier – stacked doors. Each door has full height anti-theft lock bars and welded hasps for padlocks. Contact us today for immediate assistance. Sales@BikeRoomSolutions.com
Wall Mount Bike Racks Kearny, Wall Mount Bike Brackets Kearny, Tenant Storage Cages Kearny, Tenant Storage Cages Jersey City, Wall Mount Bike Racks Kearny NJ 07032, Wall Mount Bike Racks Newark, Wall Mount Bike Racks Jersey City, Wall Mount Bike Racks Harrison NJ,