Wall Mount Bike Racks Times Square. Bike Rooms in Times Square residential buildings and parking garages had been getting overcrowded and hard to use. Stepping over bikes to get to your bike is hazardous. Bike Room Solutions based in New York City has helped create space saving, Easy to use bike rooms in hundreds of bike rooms in the 5 Boroughs and Nationwide with #42488 Wall Mount Bike Racks. Designed to allow bikes to be stored just 12″ apart when space is tight. #42488 is also allows bikes to be locked. Attached to each bike bracket is a five foot long cushion coated security cable that can be wrapped around the bike frame, both rims and secured with the bike owners lock. Our Bike Techs provide Complimentary Bike Room Layouts six days a week.
#42488 Wall Mount Bike Racks are stocked in Times Square. Manufactured with cushion coated steel in a medium gloss, shiny black, Powder coat finish. Congested bike rooms can be reconfigured to increase bike room capacity by 50% by converting to #42488 wall mount bike brackets from past generations of bike racks.  Manufactured for residential and commercial use in bike rooms that are used daily and need reliable long term bike storage solutions. Our Bike Techs goal is to provide complimentary bike room layouts that will help create self managed, Maintenance free bike rooms. Our bike room designs keep the bike room floor totally clear for safe, quick passage for bike users.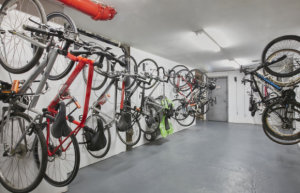 The key to efficient bike storage is that it is easy to use and safe. Our Bike Techs recommend if the bike room walls are sheet rock to install plywood supports over the bike walls 22″ high x 2″ thick with secure anchoring into the studs. Check  sheet rock walls thickness, If the bike walls are double sheet rocked, Use at least 3″ long sheet rock walls to reach the aluminum or wood studs and add toggle bolts for additional support. Our Bike Techs can install for you or show your team at no charge.
Wall Mount Bike Racks in Times Square and all of the five Boroughs generate good revenue. Today almost all Residential buildings, Offices and Parking garages charge a monthly rental charge to use the bike room averaging $15.00 per month. Bike Rooms with 60 bike spaces being rented our at $15.00 per month would generate $10,800.00 per year in revenue. The bike room typically pays for itself in 7-8 months. Our NYC office is open Monday through Friday 6AM to 6PM and Saturdays from 7AM to 2PM. Contact us today for immediate assistance. Sales@BikeRoomSolutions.com or Phone (917) 701-5795.
Wall Mount Bike Racks Times Square, Wall Mount Bike Racks NYC 10036, Wall Mount Bike Brackets New York City 10036, Bike Racks Times Square, Bike Hangers NYC 10036, Wall Mount Bike Racks NYC 10019.