Bike Room NYC. Creating a Space Saving, Easy to use, Code Compliant Bike Room can be a challenge, Bike Popularity has created congested bike rooms. Bike Room Solutions of NYC has the solution. Previous generations of bike racks took up a lot of floor space. Bike Rooms filled up quickly. Most bike rooms created today have wall mount bike brackets. #42488 Wall Mount Bike Brackets
double the amount of bikes that can be stored in the bike room. Bikes can be spaced just 12″ apart. We alternate the heights of each bike bracket 64″ and 74″ so handle bars don't touch other bikes. Manufactured with all welded powder coat, Shiny black steel, Cushion coated – No scratch finish. Attached to each #42488 wall mount bike bracket is a 5ft long cushion coated security cable that can be wrapped around the bike frame, both rims and secured with the bike owners lock.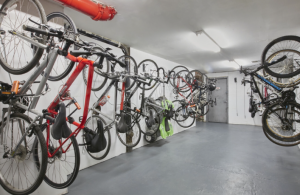 Bike Room Layouts. Bike Room Solutions provides complimentary bike room layouts daily with numerous, long term set up suggestions to create a long term, Maintenance Free Bike Room with space to grow. If the bike room walls are sheet rock, Our Bike Room Techs suggest adding plywood supports over the bike walls for secure anchoring. 2″ thick x 22″ high. Prior to installing the bike brackets consider painting the bike walls in matte or semi gloss finish for easy removal of dirt marks with a wet cloth. #42488 Wall Mount Bike Brackets comes with number tags to assign bike spots to.
Bike Room NYC Generate Revenue. in 2018 most developers, landlords, Co-op and Condo Boards charge a monthly rental fee for on site bike storage. Normally $10.00 to $15.00 per month. Bike rooms with 50 bikes can generate $6,000. 00 per year in revenue. The Bike Room typically pays for itself in just 5-6 months.
Contact Bike Room Solutions today for immediate assistance. Sales@BikeRoomSolutions.com or P(917) 701-5795. Complimentary Bike Room Layout Form
Bike Room NYC, Bike Rooms NYC, Bikeroom, Wall Mount Bike Brackets NYC, Bike Hangers NYC, Wall Mount Vertical Bike Racks NYC, Bike Storage NYC, Bike Racks NYC, Bike Room Designs NYC, 1888 wall mount bike bracket, Equiptall, Wall Mount Bike Brackets delivered daily to NYC, Queens NY, Brooklyn, Bronx, Long Island, New York.