Wall Mount Vertical Bike Racks NYC
Wall Mount Vertical Bike Racks NYC. Space saving wall mount bike storage has never been more important to residential buildings, Office buildings and parking garages.BikeRoomSolutionsbased in NYC provides space saving, Easy to use wall mount bike storage.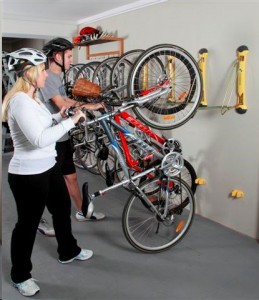 Our Newest addition of wall mount bike brackets is the No Lifting Wall Mount Bike Brackets. Just tip the bike onto the back wheel and push the bike onto the No Lift Steady Rack.
Take advantage of our Complimentary on site layout. Our BikeNicians provide much more than a space saving easy to use bike room layout. We will check your walls to insure they can hold the bikes safely. If the walls are gypsum (sheet rock) we suggest adding plywood support behind the bike brackets. as shown here. Then paint the bike wall and plywood supports with a matt or semi gloss paint for easy removal with a wet paper towel of smudge marks. Bike Room Solutions is located in NYC. We ship nationally and have sold over 11,000 wall mount bike brackets. Bike Room Layout Form today for immediate assistance. or give us a call. P (917) 701-5795.
Wall Mount Vertical Bike Racks NYC, Bike Hangers NYC, Wall Mount Bike Brackets NYC.