Wall Mount Bike Hangers Tampa. space saving, Easy to use. Generates Revenue, Free Layouts, Lifetime Warranty. #42488 Bike Hangers are ideal for residential, commercial buildings, Offices and Parking Garages. Bike Storage in Tampa and all of the Sunshine State has become a challenge as bike popularity grows.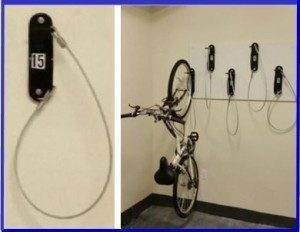 Wall Mount Bike Hangers Tampa understands bike storage. #42488 Wall Mount Bike Hangers have been designed to allow bikes to be stored just 12″ apart. When space is tight we alternate the heights of the bike hangers 62″ and 72″ so the handlebars don't touch other bikes. Manufactured with powder coat steel with a shiny black finish. Cushion coated to prevent mars or scratches.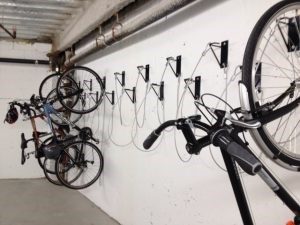 Our bike room techs have two priorities when designing bike rooms. 1) Easy to use, 2) space saving with room when possible for future growth. Each complimentary bike room layout is code compliant.

Our bike room designs keep the floors clear of bikes for easy passage through the bike room. Stocked locally in Florida, #42488 Wall Mount Bike Brackets have become the Sunshine States leading bike room storage product. Our Bike Techs provide Complimentary Bike Room Layouts. Just fill out the form in the link and return. With our layout we also provide long term solutions to keep the bike room maintenance free. If the walls are sheet rock, We recommend adding plywood supports over the bike room walls. 2″ thick x 22″ high. Prior to installing the bike hangers consider painting the bike walls and plywood supports with a matt finish or semi gloss finish for easy removal of dirt marks with a wet cloth. BikeRoomSolutions of Florida also stocks optional number tags and anchors tailored to your specific bike room.
Bike Rooms Generate Revenue. Today most residential complexes, office buildings and parking garages charge of monthly fee for on site storage ranging from $10.00 to $25.00 per month. Bike Rooms with 60 bikes renting space for just $15.00 per month would generate $10,800.00 in revenue. The investment typically pays for itself in just 4-5 months.
Our Florida is open Monday through Friday 7AM – 5PM and Saturdays 7AM – 2PM. Contact us today for immediate assistance. P(888) 963-5355 or Sales@BikeRoomSolutions.com
Wall Mount Bike Hangers Tampa, Wall Mount Bike Brackets Tampa, Bike Hangers, Mounted Bikes, Bike Holders, Bike Rack for Bikes, Bike Wall Mount, Vertical wall mount bike racks, Wall mount bike hangers delivered daily to Tampa, St Petersburg, Sarasota, Fort Meyers, Orlando, Kissimmee, Naples, Florida.