Wall Mount Bike Brackets NYC. The most space efficient bike storage system for bike in NYC residential buildings is wall mount bike brackets.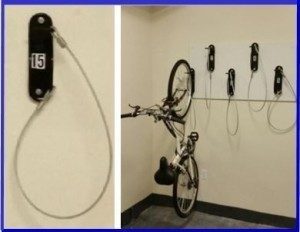 Bike Room Solutions wall mount bike brackets allow bikes to be stored just 12″ apart. By alternating the heights of the brackets the handles will not touch neighboring bikes. Built for long term use, Our #42488 bike bracket is designed to create User friendly, space efficient bike rooms while keeping the floor totally clear. Each of our bike brackets are all welded, with a powder cost finish, Rated for indoor and outdoor use. Each bracket comes with a cushion coated 5 foot long security cable that can wrapped around the bike frame, both rims and padlocked with the owners lock. Bike Room Solutions provides complimentary space saving bike room layouts. If your creating a new bike room or need to reconfigure an existing bike room contact us today. P(917)701-5795 or fill out our Bike Room Layout Form for immediate assistance,
Bike Room Solutions is located in New York City, Our office is open Monday – Sat. 7AM – 7PM. Our technicians proudly service NYC, Brooklyn, Queens, Bronx, Staten Island and NJ.
Wall Mount Bike Brackets NYC, Bike Hangers NYC, Bike Racks NYC, Mounted Bike, Bike Holder, Bike wall mount, Bike Stand, bike rack for bike, Wall Mount Bike Brackets, Wall Mount Bike Racks, Bike Hooks. Delivered and installed daily to NYC, Brooklyn, Queens NY, Bronx, Staten Island, New Jersey.
BikeRoomSolutions located at 325 E 77th St. NY, NY 10075