Wall Mount Bike Brackets Times Square. Lockable, Space Efficient, Free Bike Room Layouts. Popular in NY C's Co-op's, Hotels, Offices, Parking Garages. and Law Enforcement. Anywhere easy to use, Space saving bike storage is needed.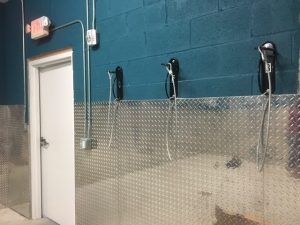 Wall Mount Bike Brackets Times Square #42488 is commercial grade. Stocked in Manhattan. Designed to allow bikes to be stored 12″ apart when space is tight. Manufactured with all welded steel with a shiny black powder coat finish. No tip, Cushion coated. Each #42488 Wall Mount Bike Bracket comes with a 5′ long cushion coated security cable that can be wrapped around the bike frame, Both rims and secured with the bike owners lock.
Bike Room Solutions Techs provide Complimentary Bike Room Layouts throughout the 5 Boroughs daily. Our team will provide space saving, code compliant layouts along with helpful information so the bike room stays user friendly and maintenance free.
If the bike room has Sheet rock walls our design team recommends adding plywood supports over the sheet rock (as shown in the above picture). The plywood support we install are 2″ thick x 22″ high. We suggest painting the walls and plywood supports in a semi gloss finish, So dirt marks can easily be removed with a white cloth.
#42488 Wall Mount Bike Brackets increase existing bike room storage space by 50% over traditional racks, While keeping the floors totally clear for easy passage. Our bike team when centering bike brackets on 12″ centers alternates the heights of the brackets 66″ and 76″ from the center of the bracket to the floor so the handlebars don't touch other bikes.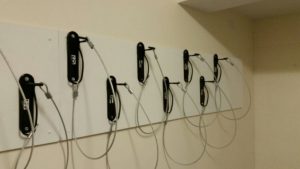 #42488 Wall Mount Bike Brackets Generate Good Revenue. Most developers, landlords and Co-op and Condo boards charge a monthly rental fee for onsite bike storage ranging from $15.00 to $25.00 per month. A bike room renting out space for 60 bikes at just $15.00 per month will generate $10,800.00 per year in revenue. The bike room will pay for itself in 4-5 months on average.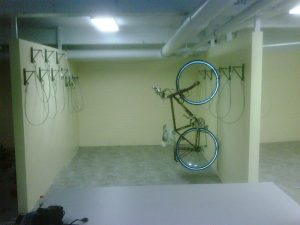 When Space allow and the building has a lot of bikes to store our bike techs can deliver prefab bike walls to be installed in the middle of the room as shown above.
#42488 Wall Mount Bike Bracket is widely specified by
Architects, Developers, Landlords and General Contractors based on teh quality, Price and the industries only Lifetime Warranty. Contact us today for immediate assistance. Sales@BikeRoomSolutions.com
Feel Free to fill out ourComplimentary Bike Room Layout form or request an on site free layout.
Wall Mount Bike Brackets Times Square, Wall Mount Bike Brackets NYC 10036, Wall Mount Bike Brackets NYC 10001, Wall Mounted bike brackets New York City, Wall Mount Bike Brackets lockable NYC, Bike Hangers NYC, Bike Brackets NYC, Bike Storage NYC, Wall Muunt Bike Brackets Midtown South, Times Square Bike Racks, Wall Mounted Bike Racks NYC, Wall Mounted Bike Brackets New York City. Wall Mount Bike Brackets delivered daily to Times Square, West Village, Chelsea, Upper Westside, Upper east side, Harlem, Murray Hill, Tribeca, Lower east side, Roosevelt Island, Battery Park, Financial District, Bronx, Brooklyn, Queens, Staten Island, Flushing, College Point, Yonkers. All of New York City.