Vertical Bike Brackets NYC. Create a space saving, Easy to use bike room. #42488 Bike Brackets have been designed to allow bikes to be spaced 12″ apart when space is tight. Easy to use and Locking.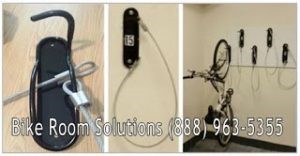 Manufactured with cushion coated, Powder coat steel with a medium gloss finish. Built to last, Stocked in New York City. Our team provides Complimentary Bike Room Layouts, Professional Installations and Free daily deliveries. Bikes can be spaced just 12″ apart to maximize space. Biker friendly bike storage. #42488 bike brackets allow bikes to be locked onto the bracket. Each of our brackets have a 5′ long cushion coated security cable that can be wrapped around the bike frame and secured with the bike owners lock. Our Bike Techs suggest alternating the bike bracket heights so the handlebars do not touch other bikes. We recommend staggering the heights 64″ & 74″ from the cushioned bike hook to the floor.
If the bike room walls are sheet rock, Consider adding plywood supports over the bike walls. 24″ high x 2″ thick is ideal. Prior to installing the brackets, Paint the walls and plywood supports in a matte or semi gloss finish for easy removal of dirt marks with a wet cloth. Our Bike techs will install the plywood supports on request.
Bike Rooms can generate revenue. Today most developers, landlords, co-op, condo boards and apartment buildings charge a rental fee to use the bike room. In 2020 the rates range from $15.00 to $20.00 per month. A bike room renting out 50 spaces at $15.00 per month will generate $9,000.00 in revenue per year. The ROI averages just 7-8 months. With the complimentary layout our Bike Techs can let you know what other neighboring buildings are charging for bike storage. We strongly urge all buildings to charge something so that the bike room does not become cluttered with unused bikes. Contact us today for immediate assistance Sales@BikeRoomSolutions.com or P(917) 701-5795
Vertical Bike Brackets NYC, Wall Mount Bike Brackets NYC, Wall Mount Bike Racks NYC, Vertical Bike Brackets delivered Free to New York City, Brooklyn, Staten Island, Bronx, Queens NY, New York.