Vertical Wall Mount Bike Racks Long Island City. Borden Ave facility stocks Top Quality, Budget Minded, Durable Wall Mount Bike Brackets, Lockable, Generates Revenue, Free Layouts and Delivery. We open at 6AM six days a week. P(917)701-5795.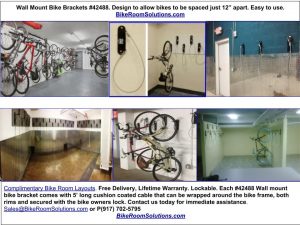 Designed to save space and be biker friendly. #42488 bike bracket is made of commercial quality cushion coated steel with a medium gloss black power coat finish. Attached to each #42488 bike bracket is a 5′ long cushion coated security cable that can be wrapped around the bike frame, Both tires and locked with the owners padlock. Built to last, Backed with a Lifetime Warranty.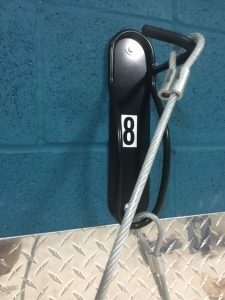 Vertical Wall Mount Bike Racks Long Island City can be spaced just 12″ apart when space is tight. We alternate the #42488 heights so the handlebars don't touch other bikes. If the bike room is currently spacious space the bike brackets on 24″ centers, 64″ from the cushioned bike hook to the floor. As more bike brackets are needed, Install them between the 24″ centers at 74″ high. These layouts will provide a space efficient bike room, While keeping the floor totally clear. Our Long Island City Bike Room Techs provide Complimentary layouts six days a week either online or onsite. Feel free to use the easy form in the link above or email us Sales@BikeRoomSolutions.com
Along with the space saving code compliant layout our techs provide long term bike room setup tips to create a self managed, Maintenance free bike room. ie: if the bike room walls are sheet rock Our bike room setup instructions include adding plywood supports over the bike walls 22″ h x 2″ thick for secure anchoring. We can install or provide your staff with detailed instructions on delivery along with a hard copy emailed with specifications and layout. Prior to installing the #42488 bike brackets consider painting the walls and plywood supports in a matte or semi gloss finish for easy removal of dirt marks with a wet cloth.
Vertical Wall Mount Bike Racks Long Island City generate good inventory. Most residential buildings and parking garages charge a monthly rental fee for onsite bike storage ranging from $10.00 to $25.00 per month. Buildings with 60 bike spaces renting out for $15.00 per month will generate $10,800.00 per year in revenue.
Bike Room Solutions also stocks Bike Room Storage Cages and Tenant Storage Cages on Borden Ave. Contact us today for immediate assistance. Sales@BikeRoomSolutions.com
Vertical Wall Mount Bike Racks Long Island City, Wall Mount Bike Brackets Long Island City Queens 11101, Wall Mounted Bike brackets, Commercial Bike Racks Queens NY, Vertical Wall Mount Bike Racks delivered daily to Long Island City, Astoria, Jackson Heights, Woodhaven, Ridgewood, Woodside, Elmhurst, Brooklyn, New York City, Bronx, Staten Island.