Wall Mount Bike Racks White Plains.  Designed to allow bikes to be spaced 12″ apart when space is tight. Easy to use, Locking,  Free Layouts,  Generates revenue.  Free Delivery. Designed to create a space efficient, User friendly bike room. manufactured with cushion coated  steel with a powder coat Medium gloss black finish.
#42488 has been designed to increase storage capacity by 50% over older generations of bike storage. Attached to each of our brackets is a five foot long,  Cushion coated security cable that can be wrapped around the bike frame, both rims and secured with the bicycle owners lock.  Our Bike Techs provide Complementary Bike Room Layouts six days a week. Feel free to use the form in the above link or email us your sketch and we will provide a code compliant layout with several tips on how to set up a self managed – maintenance free bike room.  If the walls are sheet rock we suggest adding plywood supports over the bike walls for secure anchoring. When space is tight as mentioned bikes can be centered every 12″, We alternate the heights of the brackets 64″ and 74″ to prevent handle bars from touching. If the bike room is large space the bike brackets on 24″ centers all at 64″ high, From the cushioned bike hook to the floor. Then when additional brackets are needed install those in between the existing bike brackets at 74″ high.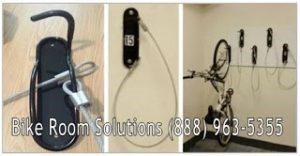 Wall Mount Bike Racks White Plains generate revenue. Today most developers, landlords, Co-op and Condo boards charge a monthly rental fee to use the bike room. Rental rates range from $10.00 to $15.00 per month. Bike rooms with 50 spaces renting out for $15.00 per month will generate $9,000.00 per month in revenue. The bike room will pay for itself in just 6-7 months on average.
BikeRoomSolutions.com also stocks locally Tenant Storage Cages in 3 popular types Single tier – full height and double tier – stacked.
Our Team provides complimentary tenant storage cage and Bike Room layouts daily. Contact us today for immediate assistance.
Wall Mount Bike Racks White Plains, Wall Mount Bike brackets White Plains, Tenant Storage Cages White Plains, Tenant Storage Lockers White Plains, Wall Mount Bike Brackets delivered free to White Plains 10601, Yonkers 10701, Peekskill 10566, Rye NY 10580, Cortland 10548, Scarsdale 10583, All of Westchester NY.